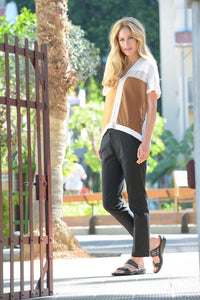 New Brand Alert to Shoe Villa *** NAOT***
We are excited to carry this amazing brand, made in Israel. Naot is a wonderful sandal for anyone who needs to wear their own orthotic, and if you just want some nice cushioned arch support then the Naot footbed will provide you with all day comfort!
Why We Love NAOT....
HALLUX SUPPORT
Enables natural hold of the big toe, prevents the foot from slipping forward and improves the foot's hold on the shoe.
ELEVATED FOOTBED CENTER
The elevated centre of the insole releases pressure in the joints of the central part of the foot.
ARCH SUPPORT
Enables the weight of the body to be correctly distributed and reduces pressure generated by the spinal column and joints.
DEEP HEEL INDENTATION
Helps the body's balance and maintains the natural shape of the pad of the heel that protects the heel bone.
FLEXIBILITY, DURABILITY & SHOCK ABSORPTION
The comfort footbed is made of a unique, high-quality blend of cork and lates, granting it flexibility, shock absorbing qualities and long-term durability.
LATEX SPONGE LAYER
A layer of padding that provides caressing and softness.
---